Household appliance repair in New York with extended warranty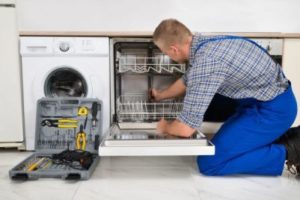 A refrigerator, freezer, washer, dryer, oven, cook-top, stove, microwave, ice-machine, air-conditioner, heaters, fireplaces, trash compactors, garbage disposals and dishwashers are far from the entire list of equipment that a modern apartment is equipped with. It is not easy to ensure that each appliance works properly, so repairing household appliances sooner or later becomes inevitable – residents of New York and the suburbs can order it at our service center. It is advisable to contact a specialist immediately after detecting the first signs of failure – timely repair will extend the life of the equipment and will be inexpensive. That repair of household appliances did not take you a lot of time, call our master at home, he will come to any point of New York and New York area. The technician will begin to repair the unit after a thorough diagnosis and in one visit will eliminate all existing problems.
Services We Provide
Washer repair
Dryer repair
Dishwasher repair
Stove/cooktop repair
Oven/range repair
Refrigerator repair
Freezer repair
Ice maker repair
Microwave repair
Refrigerator Repair
If from your refrigerator water leaking on floor, freezer isn't cold enough or something else – we can help. Our service center specializes all types of refrigerators, whether it is french door or side by side refrigerator and provides quality service and refrigerator repair in New York with a guarantee and at competitive prices.
Washer / Dryer Repair
Are your washing machine is not cleaning clothes and acting up, such as not spinning or lack of drainage? Appliance Repair in New York will have your dryer serviced in know time. We will have you dryer up in running in no time.
Why home appliance should be entrusted to the technician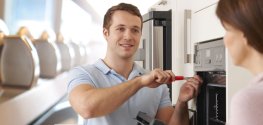 No matter how great the desire to fix a broken refrigerator, water heater or washing machine yourself, you should not take risks – not knowing the principles of equipment operation, it is very easy to aggravate the problem. In the workshop that specializes in the household appliance repair, real professionals work, they can not only eliminate the breakdown, but also eliminate its cause. If the unit does not turn on, does not execute the specified program, or has lost productivity, contact our specialists and they will solve the problem in just one visit. Our service center works according to this algorithm:
the manager accepts an application for the repair of household appliances;
the master selects the original components and goes home to the client;
diagnostics of the installation;
repair is being performed;
the final cost of services is established;
the customer receives a guarantee for a period of 3 to 12 months.
We service the equipment of many famous brands and have a large assortment of branded parts; repairing any complexity does not take more than 24 hours.
Advantages of servicing in "Appliance Repair New York"
Home equipment fails suddenly, but nothing prevents you from being ready for any force majeure. If household appliance ceased to work or function inefficiently, it is worth calling our technicxian at home – the repair services for units are available to residents of New York and the suburbs. We guarantee that restoration work will be completed quickly and efficiently, and after repair the equipment will function as new. You can contact us online through a special form on the website or by phone. Applications are accepted even on weekends.
For the top appliance repair service, look no further than Appliance Repair New York. We will repair your appliance, reinstate your self-confidence and return the harmony to your household or office space.
Please call us today for any major household appliance repair at (646) 760-4337 or request an appointment here.